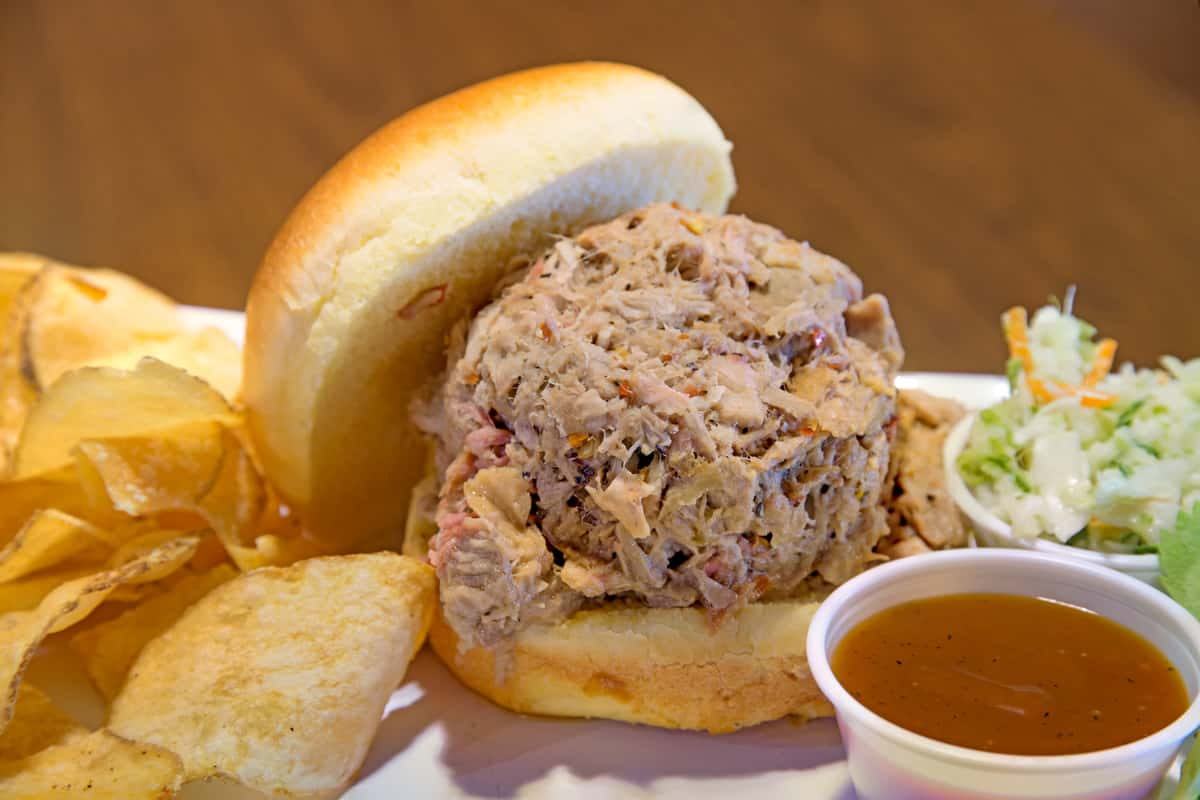 North Carolina-style Pork
The Best North Carolina-style Pork in the DMV
Sorry baseball, barbecue is the true great American pastime–nobody does it like we do here in the U.S. Home cooks and professional chefs have been perfecting this culinary tradition for hundreds of years. Some go as far as to describe BBQ as a way of life rather than a style of cooking, and many regions within the country have developed a particular style and specialty.
For the Southeast, one such specialty is North Carolina-style pork, and, according to true barbecue enthusiasts, there's only one place to get it: Lefty's Barbecue Unlimited.
What is North Carolina-style Pork?
North Carolina-style pork is a style of pulled pork that's been cooked low and slow over indirect heat for a long amount of time, rendering the meat fall-off-the-bone tender, savory, smoky, and rich. Because it's cooked at a lower temperature, the pork butt retains its moisture and juiciness–a hallmark of the dish that sets it apart from other types of pulled pork. It's typically combined with vinegar and other seasonings to balance the flavor. For the best North Carolina-style pork, head to Lefty's.
What Makes Lefty's the Best?
With more than 30 years in business, the family behind Lefty's knows their way around a smoker. Their North Carolina-style pork sandwich is touted as the best in the DMV by their loyal customers, who keep coming back for more of the spicy, tangy, smoky, impossibly tender pork. In fact, the restaurant has become a destination in its own right–guests flock here from all over the tristate area (and sometimes from across the country) to try the famous North Carolina-style pork sandwich for themselves. It's the restaurant's number-one most popular menu item.
The secret to the success of the sandwich is a lot of love and patience. There are no shortcuts here: every single fresh pork butt that enters the restaurant is deboned by hand, mixed with the Lefty's proprietary blend of vinegar and crushed red pepper, and smoked over hickory wood for up to five hours. This personal touch and diligent oversight of the entire process from raw pork to plate truly sets Lefty's apart from the rest and cements them as a purveyor of the best barbecue in the tristate area.
Try the Best Barbecue in the DMV at Lefty's
Be warned: one bite of Lefty's North Carolina-style pork may ruin you for all other barbecue. Pair your sandwich with any of the equally incredible house-made sides, signature cocktails, or sample other menu offerings like the Fish Fry, BBQ Tacos, Lefty's Signature Ribs, and succulent smoked chicken. Lefty's offers both dine-in and takeout service, so you can take your time or eat it on the go! Try it for yourself and see why thousands have declared Lefty's Barbecue Unlimited the best barbecue in the DMV.