Back In The Day
Growing up in the backwoods of Georgia, Walter Nash, Sr., better known as Lefty, always wanted more out of life. As a young boy, he remembers how he grew up picking cotton while dreaming about moving east to start his own business.In his teenage years, Lefty grabbed the opportunity to move to D.C. where he, growing into his adult years, has tried to start his own business. It wasn't until one day folks were eating at a family gathering when he realized how his wife, Margaret, would always get compliments on her cooking. She always had a passion for formulating recipes. Lefty began thinking about opening a restaurant and why not? He remembered how he grew up with his dad, Ben, cooking pigs in a manmade pit in the backyard from sunset to sunrise listening to blues music. His family would pretty much eat everything from the pig….starting with chittlins', pig's feet to making hog head cheese and hash (stew made with pig's feet, pig's ears and vegetables). Influenced by Ben, Lefty and his wife finally opened Lefty's Barbecue in 1989 in a small trailer on the side of the highway in Hughesville, Maryland. Just selling ribs, chicken, North Carolina pork and a few homestyle side dishes, folks would travel as far as Baltimore and D.C. to southern Maryland to see the backhouse of the trailer with stacks of hickory and mesquite wood piled high. Folks would know that they were close because they could see the intense smoke pumping from the shack and they could smell the aroma for miles!


But it didn't just stop there, Margaret was on a mission experimenting with different spices and seasonings until she finally was pleased with her creation of Lefty's own rib rub. Lefty knew this seasoning was something special and to make the ribs more flavorful, he had to marinate his meats a few days prior to cooking them. Afterwards, he would place them in a cooker, raw not parboiled, and slowly smoke them for over 4 hours with hickory wood. Today in Waldorf, Lefty's children are involved in the family business. His daughter, LaTanya, manages the restaurant and catering division while his son, Walter Jr., manages the spice division which manufactures Lefty's popular shredded pork with vinegar seasoning, hot and mild barbecue sauce and fish seasoning. As a family restaurant, Lefty's family realizes how important their customers are. Their mission is to treat their customers, their guests, with exceptional hospitality and provide quality ingredients and products available in order to continue making flavorful recipes.Lefty's philosophy, "Treat the customer right cause' we're not the only rib joint in town."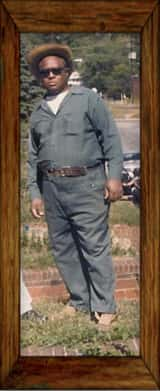 Bennie Lee Nash,
Father of Lefty,
encouraged Lefty to open
Lefty's Barbecue.
1924-1996